"Here I am! I stand at the door and knock.
If anyone hears my voice and opens the door,
I will come in and eat with that person, and they with me." Revelation 3:20
On this page we have tried to answer a few of the questions we have been asked before. It isn't exhaustive but we know going to any new environment can be unsettling. We were all new to church once and know how that feels.
Can my dog come to church service? We are small rural churches and frequently have dogs as members of our congregations. Well behaved dogs and considerate owners are welcome.
Is there a dress code I have to follow?​ No. Everyone is welcome. However you may feel more comfortable if you think about it. Most people wear everyday clothes but there is a sense that we are coming to meet with God and therefore tend to recognise that in our clothes choice. Our buildings are all old and the heating is quite efficient in most but it takes a long time for old buildings to absorb warmth from the sun so it may be quite a lot cooler inside than you expect.​
How will I know what to do? We use service sheets or books and these are fairly self explanatory but many have extra notes to guide you especially for sitting and standing. You might feel more comfortable if you sit where you can see other members of the congregation so you can check what they do.
Who takes Holy Communion? Confirmation (affirming our baptism promises) is the point when most people start to share in the bread and wine as full members of God's people. Members of other denominations such as Baptists, Methodists etc. are very welcome. Our position is that if you have given your life to Christ you are family and welcome if you wish to share with us. Holy Communion is when we share together in bread and wine as Jesus told us to before he was arrested and crucified, it is therefore the most special moment and a great privilege to share in the story and in the gift of the Holy Spirit together. Those who share bread and wine in this way are called one family, the children of God. This is very serious. You know your heart and if you wish to share in Jesus with us that is fine. If you are unsure we usually suggest you bring an order of service with you to the altar rail. This is a good visual clue to the leader of the service who will share a spoken blessing with you instead. If you would like to know more please speak to any minister.
Why do you stand for some of the readings? This is a tricky one to follow. In most services we have two readings from the bible. If the service is Holy Communion the second reading will be from one of the four gospels (this means Good News - the remembrance of Jesus life) - Matthew, Mark, Luke and John which are the first books of the New Testament. We stand when these are read as a sign of respect for these special books about Jesus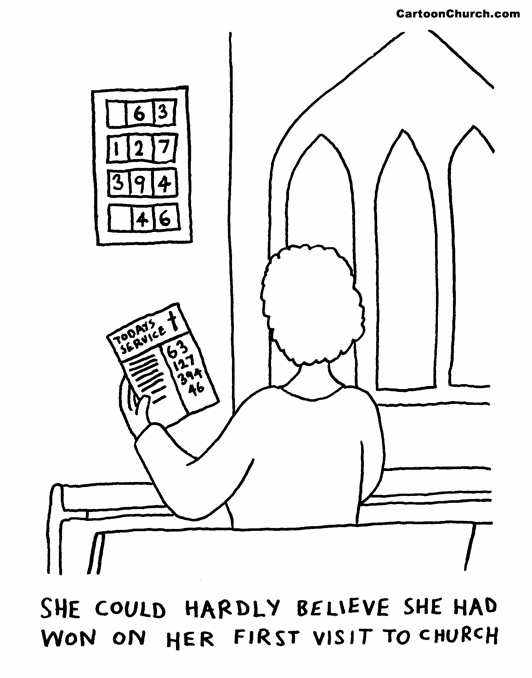 Cartoon © Dave Walker - Cartoon Church